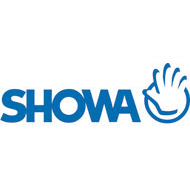 Showa are experts in hand protection and use their 50 years of experience in designing and manufacturing safety gloves to offer an extensive range of high quality gloves specially designed for a range of hazards, such as cut resistance, oil repellent, heat resistant and thermal.
Incredibly, every single glove that is produced by Showa is inspected before shipping to ensure the gloves meet Showa's extremely high standards.
Here at Gardener Gear we are delighted to offer these gloves to our customers and we firmly believe there is no better alternative in hand protection available.
Showa is always striving to improve their products and bring innovation to hand protection to give you the very best protection while maintaining extremely high levels of grip, dexterity and comfort.
Showa Gardening Gloves
The unique micro-ventilated waterproof polyurethane coating protects the hand against water and liquids, whilst the innovative inner membrane allows warm air and moisture to escape.
Provides warmth and protection from liquids in cold conditions, with the comfort of a breathable glove.
Known as the 'knuckle protector', this heavy duty glove gives that little bit more protection than your general-use gardening glove, with a latex coating that covers the palm and back of the hand, you are able to handle the toughest of jobs.
Breathable, water repellent, fully coated latex grip glove. Reduced perspiration when it's hot yet warmth and dryness in wet conditions
The Showa Grip Master 310 is our all-purpose general-use glove; exceptional grip, comfort and protection. An excellent all-rounder suitable for potting through to landscaping and everything in-between.
The Showa Re-Grip 330 is a general-use glove with a reinforced thumb crotch. Ideal for building work and scaffolding, the vulnerable area of the hand is extremely well protected by a double layer of latex, giving maximum comfort and maximum grip
Highly flexible, lightweight glove with an 'advanced grip' latex coating providing excellent wet and dry grip performance.
A light, elastic low-lint glove, resistant to deformation and which keeps its shape longer
The Showa 377 is a fantastic multi-purpose gardening glove that protects your hand from oil, water and abrasions
Ultra-lightweight, with embossed microporous nitrile palm
An all-purpose heavy duty glove, resistant to chemicals, fertilisers and water, together with offering thermal protection for the coldest of days.
Showa 490 is a Cold and Oil Resistant PVC Coated Gauntlet. The Showa 490 has a cotton knit lining to give superb thermal protection while remaining flexible down to -20°C